Sleep Won't Help
M
y dark circles became evident while I was in college when I first started really experimenting with makeup and realizing that I had a terrible time trying to rid of the dark pigments under my eyes.
Now, I don't know if it's from lack of sleep, dehydration or genetics, but I have a problem with dark circles. It's like the area under my eyes have lost volume. Sometimes I play around and push some skin from my cheeks to this area to imagine how it would be to have perfect under eyes.
I recently discovered
Trish McEvoy's Correct & Brighten
pen and was debating between that and YSL's pen corrector. What made me choose Trish was basically by trying it out. One big difference was the retractable bottom verses a pen clicker bottom. Trish's corrector is retractable making it very easy to use.
The secret is their "Triangle of Light" which is where you take the pen and draw an inverted triangle under your eye. When I first saw this demonstration I thought it was a joke. Like some crazy kogyaru make-up or something. Like this:
But, blend it in lightly with your ring finger and be amazed at how different my eyes look!
Here's a before and after picture. Not only is the dark circle gone, the Triangle of Light created a highlight under my eyes and above my cheekbone making it seem like I got a lift. DA FUQ.
Here is more darker lighting. The right side is the after if you didn't already know. :p
$40 for a brightener. It is really worth it? Hell. Yes.
Why? Because I've tried everything else out there (besides Cle de peau's concealer that I won't spend $70 on) and so far, this works. It doesn't dry out my skin in that area which is very crucial because its skin is the thinnest part of our face. It conceals, brightens and lifts the area like no other. I guess the only factor is how long it lasts. I just got it last month and so far it hasn't shown signs of drying out. So far so good!
Try it for yourselves, gals & guys! You'll love it :)
Have you guys entered my giveaway hosted by Angel Contacts?! Win a pair of colored contacts if you enter before the end of the month! Do it before you miss your chance!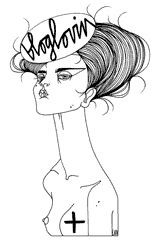 CLICK SHIRTLESS WOMAN TO FOLLOW ME!