CHANEL BRUSHES.
A-mazing.
I brought the whole party home the day I decided to buy this great Chanel brush kit. It came with a foundation, powder, blush, eyeshadwo and contour brush. A great set for those who have never tried Chanel brushes or any brush in general. An awesome step-up from my starter brush kit which was just an ordinary drug store brand.
Chanel never ceases to amaze me with quality. I use these daily and will continue to and will keep you guys posted on the condition of the brushes. So far, so good. :)
Btw, those who haven't entered my giveaway hosted by Angel Contacts should do so ASAP! Win a pair of colored contacts nowww!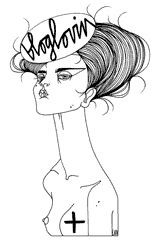 CLICK SHIRTLESS WOMAN TO FOLLOW ME!