Sponsored Review: Esqido Mink Lashes
W
hen I was working in cosmetics, most of my co-workers wore falsies. I was never too into falsies because they were time-consuming, extra expense, and I just sucked at putting it on. After working a few months with these girls, I've grown towards lashes. I guess in a way you do save time and expense because there's no need for layering on mascara. Falsies are also a lifesaver for those extra long days you have to keep your makeup on. If all else fails and your foundation has melted off, your lips are dry, at least your eyes are still beautiful, right?
I chose the "
Unforgettable
" lashes. These are beautiful. It has a airy dainty presence and putting it on, it's so lightweight and soft. I mean, it's expected for it being made out of real mink fur. According to their website, these lashes can be worn up to 25x!! Amazing!
Before and after pictures in indoor lighting. It gives a sort of cat eye affect.
Finally got around to using my ring light. Sometimes I get conscious of ring lights because they really do make flaws very obvious so do not mind my ugly complexion (although it's gotten so much better after I changed my skincare routine).
I think these are my favorite lashes. They remind me a lot of the lashes I used to buy in Japan so it's a relief to find these.
Shop now!:
There's another video that I quickly made yesterday that I will upload very very soon so look out for that. And this video is a tutorial :)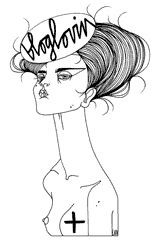 CLICK SHIRTLESS WOMAN TO FOLLOW ME!