New Makeup Toy!
How could I not have known about
QVC
?! My co-worker shared a product on QVC that she thought I would love and I decided to check it up on the web and before you know it, I have 40 QVC window tabs open. I'm obsessed with this website and the awesome products they feature.
Anyway, this is what my co-worker shared with me:
This brilliant spinnion cosmetic storage that holds everything conveniently. And it SPINS!
I've never had my makeup collection so neatly organized! I used to have everything in 6 separate makeup pouches and probably spent more time searching for each item instead of actually putting on the makeup.
The top of the storage is my favorite because it holds all my lipsticks and mascaras. Yes, I love Chanel. But my readers already know this :P
High ceiling storage for your serums and lotions and such. My top 3 favorite skin care brands at the moment (SKII, Fresh and Chantecaille).
There are also little shelves to store your eye shadows, eye liner pots and such.
I ordered a couple for Christmas presents here because I thought this was the perfect gift. Who wouldn't want to have an organized makeup stand?
Get yours on QVC here: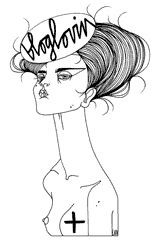 CLICK SHIRTLESS WOMAN TO FOLLOW ME!