I love Fresh!
I recently became a fan of
Fresh
because of work. Ever since trying their products, I try to go for more natural skin care products. I have realized that my skin can be sensitive to products with too much fragrance or chemicals. Either way, I don't think any of that would really be good on your skin anyway.
Now, the Umbrian Clay line is where I put my concentration on. My skin is considered combination but majority oily. Umbrian clay is collected from Umbria, Italy. The clay helps lift the bacteria off your skin and purify and control oil from your face. Their mask is the best thing in the world but unfortunately, it's always sold out. :( I've been trying to get it for months now.
This lotion here is very lightweight and can be used day and night. I've been using this lotion for the past couple of months and I do notice that my skin isn't as uncontrollably oily and the lotion doesn't leave a sticky creamy feeling afterwards.
These are my ultimate lifesavers. The Sugar lip treatment on the right I use under all my lipsticks to keep them moistures and I love that it has 15 SPF in it. These treatments contain sugar which has a natural moisture in it. And don't get me started on the treatment to the right.
The white container is an Advanced Lip Treatment which helps reduce lines in your lips and literally moistens your lips as soon as you apply. It's the best instant treatment for dried, cracked lips. I have yet to find something that can compare. A must buy!
Another popular Fresh item is their
Soy Face Cleanser
. I think I first started to use Fresh when I was shopping in Sephora and was browsing their "top 10"s. This was ranked first for cleansers and you know I'm always a sucker for anything that's ranked #1. When I tried it out at first, I was a little bothered by the smell. It smelled a lot like cucumbers. But once I tried it out for a while and used it with my Clarisonic, I grew to love the smell!
It's almost like a gel cleanser. What's great about this cleanser is that it's soap-free, meaning that it won't strip away any excess moisture from your face. What's even more great about this is that it can remove makeup! Yes, eye makeup as well. Let me show you:
Here I marked my hand with an eyeliner pencil, eyeshadow and eyeliner gel and let it sit for a bit.
Not adding any water, I start scrubbing with the gel. I was a little nervous because the liners weren't coming off! But as soon as I sprayed some water onto my hand, it came off right away.
All clean!
Fresh has so many great products and I really love the packaging of the products. Very simple and sleek. For those who believe they have sensitive skin, I really recommend their products. I've seen so many people come and purchase the soy cleanser as their starter and they come back a week later wanting to try the rest of the line. I really need to get on reviewing their masks because they're the bomb-diggity. Literally putting rose petals and actual honey on your face! But that will have to be for another day.
I just about finished wrapping all my Christmas presents so I'm all set for the incoming week. Oh, how the year has gone by so quickly! Will have to save that whole "end of the year" entry for later but if I don't have a chance to post by next week, I want to wish everyone a Merry Christmas! I love you all :3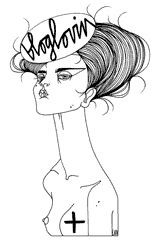 CLICK SHIRTLESS WOMAN TO FOLLOW ME!