Les Beiges
C
hanel recently launched their new mineral compact powder line,
Les Beiges
. A lot of great shades you can use as a bronzer, highlight or even all over light touch-up/finishing. What I like about this line is the packaging. It's a beige compact design, a color that Gabrielle Chanel adored.
Coverage is sheer but definitely buildable. I purchased it in #40 to use it as a bronzer since I don't own one just yet. I am in love with the adorable "half moon" brush that it comes with. It's great for contouring the face with ease with its 100% all natural bristles.
I'm using my Chanel Blush Brush that came with my brush kit that I blogged about recently. I like to use Anna Sui's blush and it's probably the best blush I've ever owned. I never break out from it, the fragrance from the powder is awesome, it lasts a REALLY long time and the colors are just so damn cute.
Here I'm using the Chanel Powder Brush to just blend and feather my blush and bronzer together so it won't look so much like two lines of color.
I also got my hands on this adorable mini sample of Les Beige in #10 for highlighting. Will definitely pick up the real thing once this runs out!
Here is a non-filtered/unedited photo of the blush and Les Beige #40 and #10 on my face. My face looks slimmer thanks to contouring :)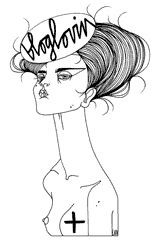 CLICK SHIRTLESS WOMAN TO FOLLOW ME!