Summer with Chanel
I
've come to realized that we are already in the midst of summer. How could I have been so oblivious to the bikini sales, intense heat and little children running around the malls on weekdays? So, what's in this summer? Honestly, if you ask me . . .
But here is what I think is the 2013 summer trend according to the mannequins I saw at Forever21.
Top and short from Forever21, Pumps from Salvatore Ferragamo
Aquatic and floral colors perhaps? Semi-high-waisted shorts with sleeveless collared shirt? Gold open-toe pumps? Am I doing this right?
I got my hands on another pair of Ferragamos. Once I saw the color combination of pebble gold calf with a pink gold logo, I just HAD to get them. Thank goodness they have my hobbit feet size (width-wise). And please excuse my unsightly finger toes! I've always been self conscious of them but at least my toenails aren't rotting.
S

o, the other day I was shopping with a friend with no intention what-so-ever to purchase anything and then right down the make-up aisle I see Chanel. I had to pursue. AND I JUST HAD TO BUY A WHOLE SET. DAMN YOU LIMITED EDITION COLLECTION!
I've always loved colored mascara and have tried many brands but to be very honest and non-biased to Chanel but damn this mascara is the bomb-digity.
Inimitable Waterproof Mascara
Limited Edition
A mascara that can add volume, lengthen, curl, separate and color your lashes all in one stroke. Kind of like a tropical cond*m minus the separation. ANYWAY, bottom line is that this mascara is definitely a repeater. I'm really sad that this is a limited edition, though. I love it so much that I'm going back to buy the turquoise mascara (and also because the salesperson gave me the wrong style when I wanted the mascara). You'll see it better in the pictures below that the color is a very discreet tint of blue whereas the turquoise shade I tried stands out way more. I will post a picture of that color very soon!
For a pricey but worth while $30.
Limited Edition
$34
This was an accidental purchase because as I mentioned earlier I was supposed to purchase the turquoise mascara but when I got home and opened the box, I found this. Normally, I would go back and return it but without complaints, I decided to try it out since--I kid you not--I've never tried eyeshadow sticks before.
Very lightweight eyeshadow with a super smooth application! There's minimal glitter which is great because I don't want to blind people with my eyes. The color is a color I usually purchase aside from blue so I guess it worked out in the end.
For $34 but not too sure if that's reasonable or not since I've never tried stick eyeshadows. You guys be the judge.
And last but not least, to finish the eye makeup collection, I purchased an eyeliner:
Stylo Yeux Waterproof Eye Pencil
Limited Edition
Still a bit bitter about this but I was supposed to buy this with the matching mascara. It looked AWESOME. Turquoise on turquoise. My eyes looked like a butterfly. But i guess I'll have to wait until the next entry to show you what I mean. I mean, when I think about it, it does give off a good contrast with the blue. Blue shades and green shades always seem to go together so well.
I love this pencil because the application is ridiculously smooth and it's so long lasting. I tried on the tester and for the whole humid summer day, there was no smudges and it just seemed to stay in tact. What's great is that it comes with a built-in sharpener. Neat.
For $30 and a hallelujah for finding the right eyeliner pencil!
I gotta go and catch up on my blog reading. Since Google Reader is gone, I'm trying out Bloglovin'. I'm going around "following" everyone at the moment. Follow me, too!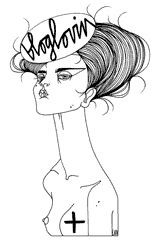 CLICK SHIRTLESS WOMAN TO FOLLOW ME!